Welcome to Da Nang, a captivating city nestled in central Vietnam, known for its stunning coastline, picturesque landscapes, and rich cultural heritage. In this article, we will take you on a virtual tour of the top 20 must-visit tourist destinations in Da Nang. Whether you're a nature lover, history enthusiast, or seeking a relaxing beach vacation, Da Nang has something for everyone. Let's dive into the beauty and charm of this remarkable city.
1. My Khe Beach:
My Khe Beach, also known as China Beach, is a pristine stretch of golden sand that offers breathtaking views and crystal-clear waters. It's a paradise for beach lovers and water sports enthusiasts, with activities such as swimming, surfing, and jet skiing available.
2. Marble Mountains: 
Marvel at the stunning Marble Mountains, a cluster of five limestone hills that are a symbol of Da Nang's spiritual and cultural significance. Explore caves, visit pagodas, and enjoy panoramic views of the city from the mountain peaks.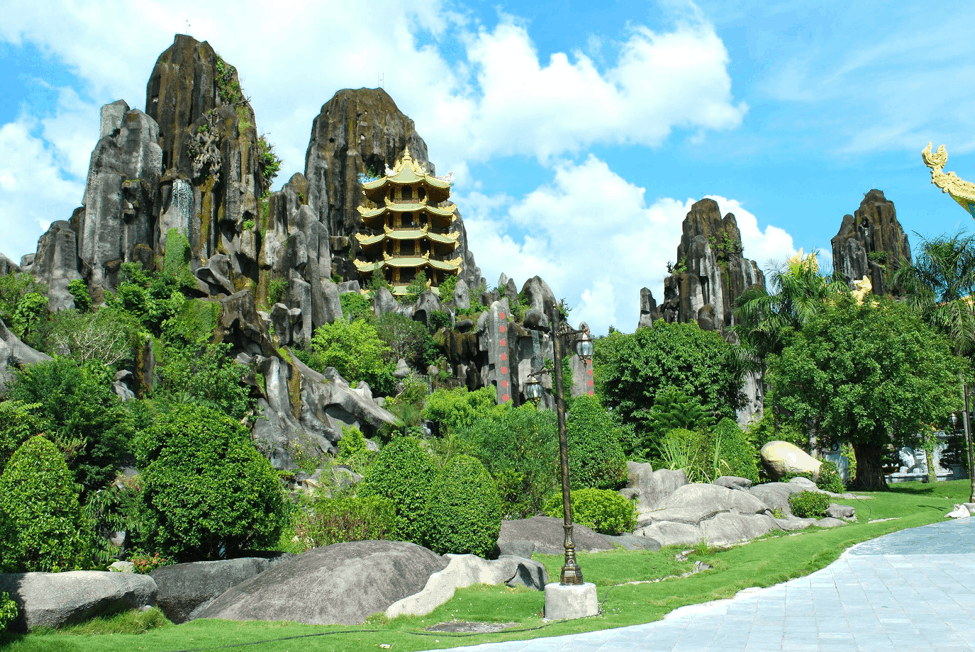 3. Ba Na Hills:
Take a cable car ride to Ba Na Hills, a French-inspired hill station with charming architecture and stunning gardens. This mountain resort offers a cooler climate, an amusement park, a Golden Bridge, and a variety of thrilling activities.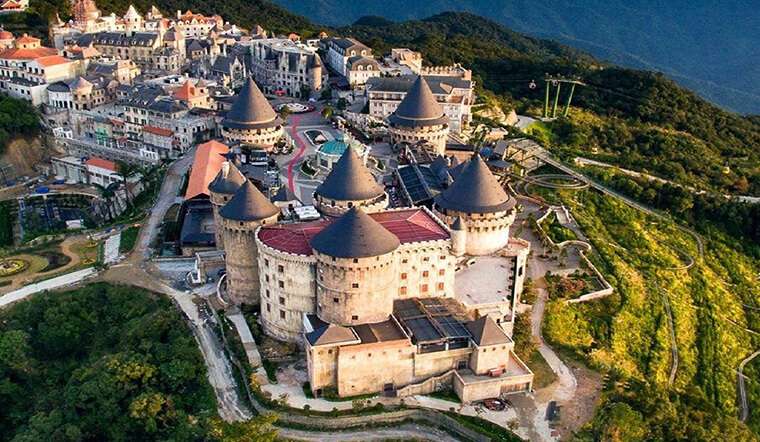 4. Dragon Bridge:
Witness the awe-inspiring Dragon Bridge, an iconic landmark in Da Nang. This magnificent bridge spans the Han River and is renowned for its dragon-shaped design. Don't miss the spectacular fire and water show that takes place on weekends.
5. Son Tra Peninsula:
Embark on a journey to Son Tra Peninsula, a natural haven boasting lush forests, beautiful beaches, and diverse wildlife. Visit the Linh Ung Pagoda, home to the magnificent Lady Buddha statue, which overlooks the city and the sea.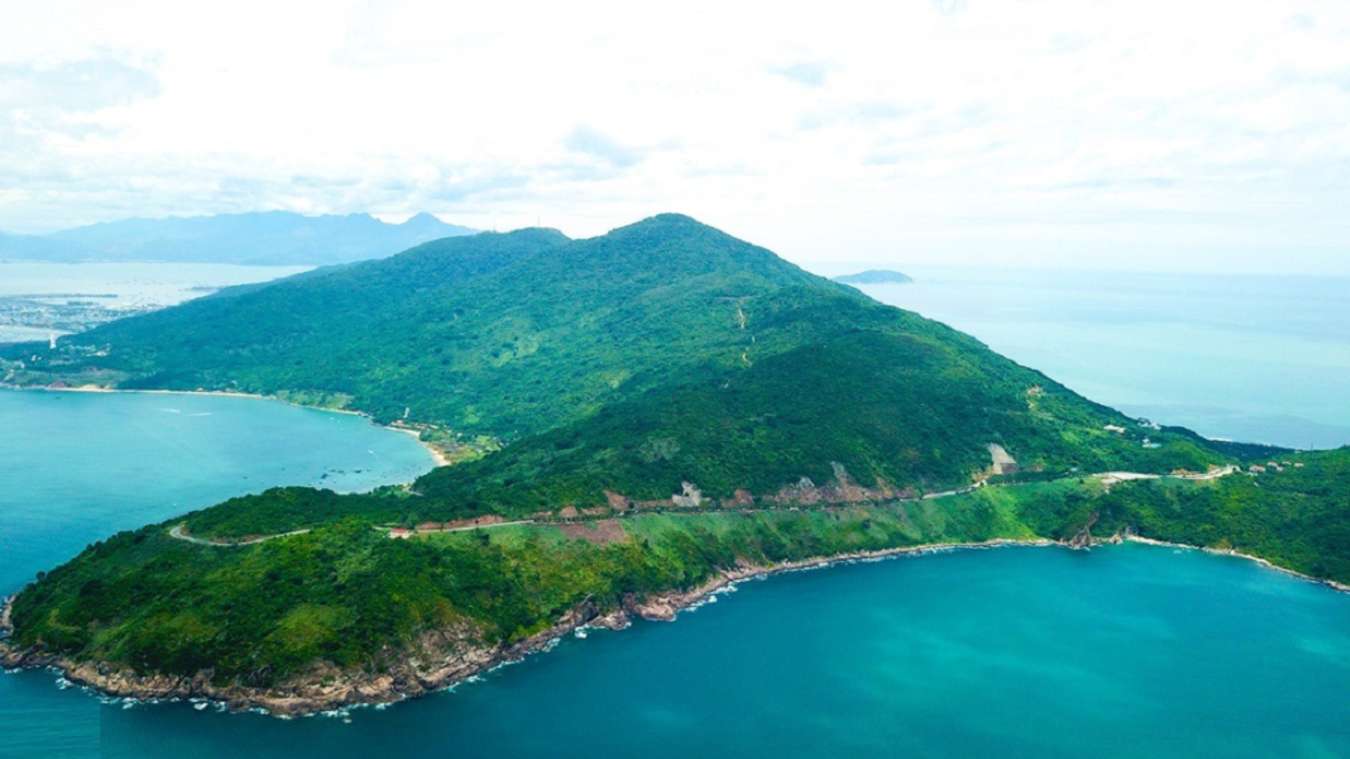 6. Han Market:
Immerse yourself in the local culture and experience the bustling atmosphere of Han Market. This vibrant marketplace offers a wide range of local products, including fresh produce, handicrafts, and traditional Vietnamese cuisine.
7. Hoi An Ancient Town:
While not technically in Da Nang, a visit to the nearby Hoi An Ancient Town is a must. This UNESCO World Heritage Site enchants visitors with its well-preserved architecture, vibrant lanterns, and rich history. Explore its narrow streets, ancient houses, and charming riverside.
8. Cham Museum:
Delve into the ancient Cham civilization at the Cham Museum, which houses the world's largest collection of Cham sculptures. Gain insights into the culture, art, and history of this fascinating civilization that once thrived in the region.
9. Linh Ung Pagoda:
Located on Son Tra Peninsula, the Linh Ung Pagoda is a serene Buddhist temple that offers breathtaking views of the surrounding mountains and the city. Marvel at the impressive statue of the Goddess of Mercy and soak in the peaceful ambiance.
10. Han River Bridge:
Admire the modern architecture of the Han River Bridge, an iconic symbol of Da Nang's development. Enjoy a leisurely stroll along the riverfront promenade and witness the bridge illuminated by vibrant colors at night.
11. Suoi Mo
Suoi Mo is a serene oasis nestled in the Vietnamese countryside. With its clear streams, lush forests, and captivating waterfalls, it's a perfect retreat for nature lovers seeking tranquility.
12. Asia Park:
Indulge in a day of fun and excitement at Asia Park, an amusement park offering thrilling rides, cultural performances, and a wide range of entertainment options. Don't miss the Sun Wheel, the tallest Ferris wheel in Vietnam, providing panoramic views of the city.
13. Cao Dai Temple:
Explore the vibrant Cao Dai Temple, a unique religious site that combines elements of Buddhism, Taoism, Confucianism, and Christianity. Witness the fascinating rituals and admire the intricate architectural details of this spiritual sanctuary.
14. Non Nuoc Beach:
Escape to the tranquil Non Nuoc Beach, a pristine shoreline fringed by lush greenery and the majestic Marble Mountains. Relax under the sun, take a dip in the clear waters, or indulge in various water sports activities.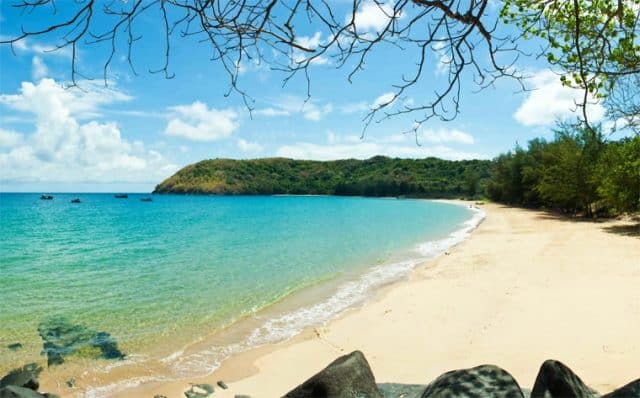 15. Red Beach:
Discover the beauty of Red Beach, a hidden gem located north of Da Nang. The beach's distinctive red sand, coupled with its serene atmosphere and stunning vistas, offers a peaceful retreat away from the bustling city.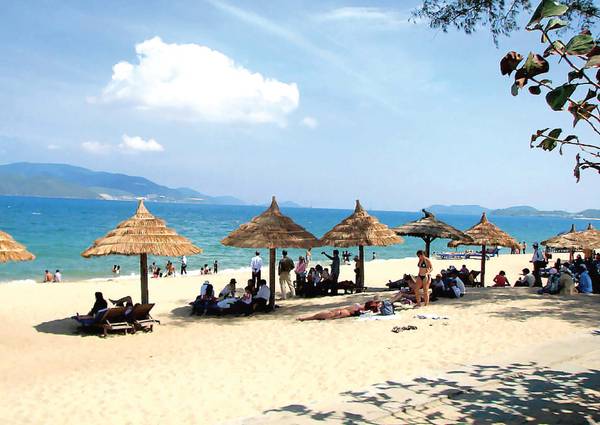 16. Han River Waterfront:
Stroll along the Han River Waterfront, a picturesque promenade that spans along the banks of the Han River. Enjoy the scenic views, vibrant street performances, and savor local delicacies at the numerous riverside restaurants.
17. Phap Lam Pagoda:
Experience tranquility at the Phap Lam Pagoda, one of the oldest and most revered Buddhist temples in Da Nang. Admire the intricate architecture, colorful murals, and tranquil gardens as you soak in the spiritual atmosphere.
18. Helio Night Market:
Indulge your senses at the Helio Night Market, a vibrant market that comes alive after sunset. Explore a wide array of street food stalls, shop for local handicrafts, and enjoy live music performances.
19. Golden Sand Dunes:
Venture outside the city to explore the breathtaking Golden Sand Dunes. Engage in thrilling activities such as sandboarding and ATV riding or simply marvel at the magnificent landscape formed by wind and sand.
20. The Hai Van Pass
The Hai Van Pass, located between Da Nang and Hue, is a mesmerizing mountain route that blends natural beauty with historical significance. With its stunning views and rich heritage, this pass promises an unforgettable experience.
Da Nang, with its combination of natural beauty, cultural heritage, and modern attractions, promises an unforgettable experience for every traveler. From the sun-kissed beaches to the majestic Marble Mountains, and the vibrant cityscape, Da Nang offers a delightful blend of tradition and modernity. Plan your visit to this enchanting city and immerse yourself in its rich history, mesmerizing landscapes, and warm hospitality. Start your adventure in Da Nang today and create memories that will last a lifetime.